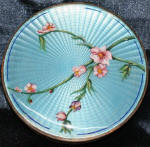 Photo2 ~ Photo3
Photo4 ~ Photo5
Photo6
Exquisite, Early Black, Starr & Frost Guilloche Enamel Sterling Silver Powder Jar / Box Lid Only~ Very good condition with a few enamel chips around the outer edge; measures 3-7/8" x 3/4".


Black, Starr and Frost was formed in 1874 as the
successors to Ball, Black & Company.
*$125.00
1dpb32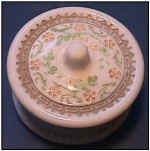 Photo2 ~ Photo3
Photo4 ~ Photo5
Rare Jean Vivaudou Co. Perfume Potpourri Flowers In Painted Milk Glass Jar~ "Potpourri Flowers, Perfumed petals to sprinkle into vanity, bureau drawers, to perfume accessories, lingerie and linens. Imparts a lovely garden sweet fragrance to wearables in clothes closets also to place in containers to perfume rooms. Jean Vivaudou Co., Inc. N. Y. C. Distributors." Excellent condition; no chips, cracks, hairlines or wear; photos don't do it justice; measures 4" x 3-1/4".
*$40.00
1dpb31